Polished Zirconia Ceramic Ring Gasket
Brand Name

3X Ceramic Parts

Material Type

zirconia ceramic

Forming Way

isostatic pressing

MOQ

5 pcs

Specification

custom make

Shape

round

Density

6.g/cm3

Application

used on dish washing machine motor

Main Property

wearable

Delivery Time

25 days around

Shipping Way

by express

PACKAGE

safety packing
Polished Zirconia Ceramic Ring Gasket
Zirconia ceramic gasket has the advantages of high toughness, high bending strength, high wear resistance, excellent heat insulation performance and thermal expansion coefficient close to steel. Therefore, it is widely used in the field of structural ceramics. It mainly includes: Y-TZP grinding ball, dispersion and grinding medium, nozzle, ball valve socket, zirconia mold, micro fan axis, optical fiber pin, optical fiber sleeve, wire drawing die and cutting tools, wear-resistant cutting tools, watch case and strap, light hitting stick of golf ball and other wear-resistant parts at room temperature.
The hardness of zirconia ceramic gasket is second only to diamond. It is an advanced ceramic material with comprehensive mechanical properties at room temperature. Zirconia ceramic gasket has low thermal conductivity; Low heat capacity; Thermal shock resistance; Excellent flexibility and tear resistance; No asbestos, corrosion resistance, no interaction with molten aluminum; Excellent electrical insulation and sound insulation performance; Excellent machinability; Tough texture and high compressive strength.
It has been applied to wear-resistant, corrosion-resistant and high temperature resistant parts in many fields such as metallurgy, electronics, petroleum, machinery, aerospace and so on.
Composition Sheet of Zirconia Ceramic

Type: FMY-SB-3.0, Lot No : 14-06033

Inspection Result , PASS

NO

ITEM

VALUE

METHOD

1

ZrO2(HfO2)%

>94.3±0.1

-

2

Y2O3 %

5.4±0.2

JY-38IIAES

3

Fe2O3%

<0.0030

YB/T568.2-2008

4

Na2O3%

<0.0400

YB/T568.5-2008

5

SiO2%

<0.0100

YB/T568.3-2008

6

TiO2%

<0.001

YB/T568.6-2008

7

Cao%

-

-

8

MgO%

-

-

9

AL2O3%

< 0.25

YB/T568.4-2008

10

CeO2%

-

-

11

CI%

<0.02

GB/T9729-2007

12

Lg Loss %

3.23

1000°C, 1h

13

H2O%

0.31

110°C, 1h

14

Sbet M2/G

10.6

SSA-3600

比表面仪

15

D50um

1.444

MS2000

粒度仪

16

TD G/ML

-

-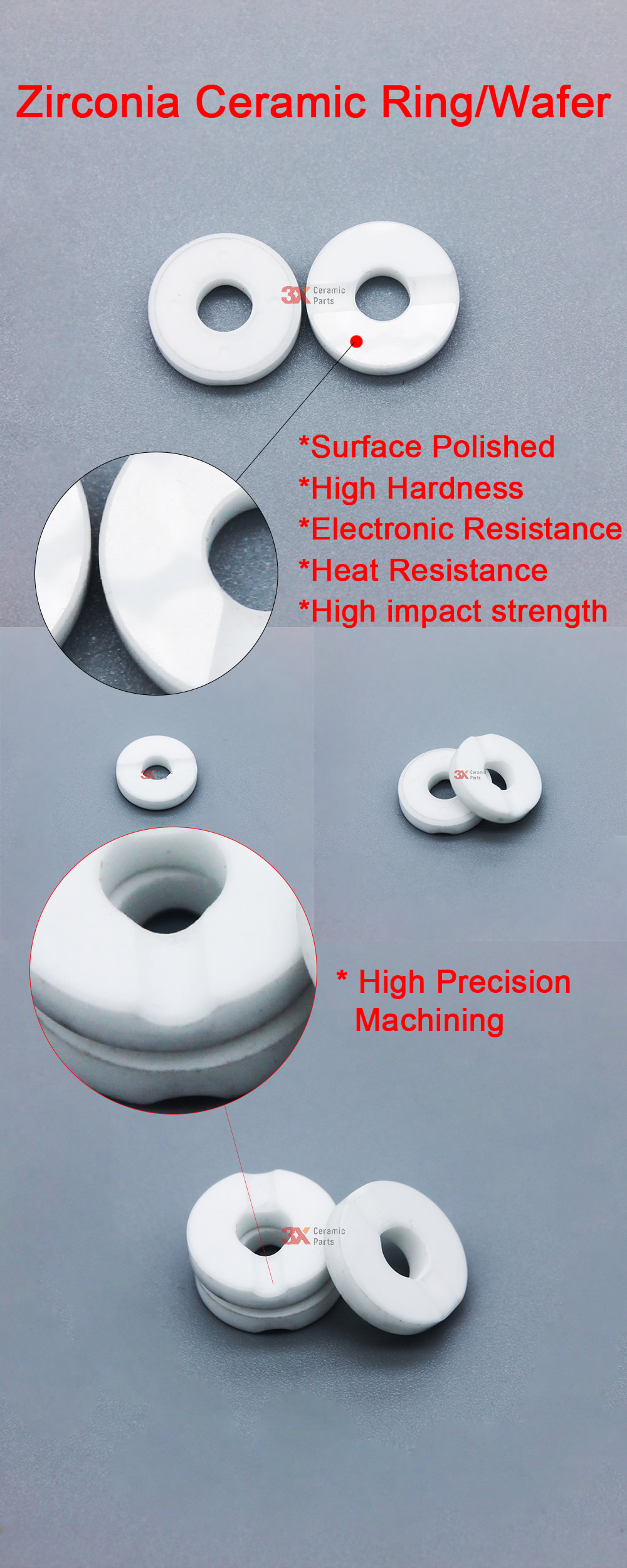 Online Inquiry